Dutch Wire Cloth and Five Shaft Weave Wire Mesh
Dutch woven wire cloth is popularly used as filter cloth with micron openings. Stainless steel Dutch woven wire cloth normally goes from 24/110mesh to 325/2300mesh.

We also supply Five Heddle Weave wire cloth.
Materials: Materials of Dutch Woven Wire Cloth is divided into Type 302, Type 304, Type 304 L, Type 316 and Type 316 L. Stainless Steel Dutch Woven Wire Cloth offers good wear-resistance, heat-resistance, acid-resistance and corrosion resistance. Dutch Woven Wire Cloth in brass, nickel, steel or other metal materials also available at request.
Use: Stainless Steel Dutch Woven Wire Cloth is utilized as filter fittings for chemical industry, medicine, petroleum, telecom-communication, scientific research units and so on.
Weaving Patterns of Dutch Wire Cloth can be divided Dutch Plain Weaving, Dutch Twill Weaving or Dutch Reverse Weaving.
Dutch Twill Weave: Each weft wire passes alternately over two, and then under two successive warp wires and each warp wire passes alternately over two and under two successive weft wires. It is possible to be used to allow a heavier than standard wire diameter.
Five Heddle Weave: A limited sizes are available.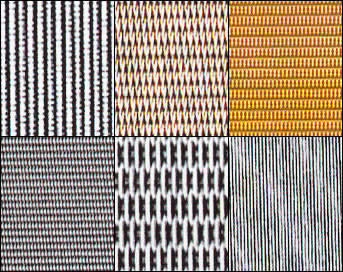 Dutch Wire Cloth Plain Woven

Gauge No.

Mesh/Inch(Warp x Weft)

Wire Diameter
(Warp x Weft)

Weight/sq
(kg)

32#

8 x 62

0.63mm x 0.45mm

300

5.42

40#

10 x 79

0.50mm x 0.355mm

250

3.16

48#

12 x 64

0.58mm x 0.40mm

280

2.9

55#

14 x 88

0.40mm x 0.30mm

180

2.54

76#

19 x 140

0.315mm x 0.20mm

140

1.88

80#

20 x

0.35mm x 0.20mm

-

3.6

95#

24 x 300

0.355mm x 0.25mm

120

2.45

100#

25 x 140

0.28mm x 0.20mm

100

1.95

120#

30 x 150

0.25mm x 0.18mm

80

1.68

140#

35 x 175

0.224mm x 0.16mm

71

1.52

160#

40 x 200

0.20mm x 0.14mm

60

1.40

180#

45 x 250

0.16mm x 0.112mm

56

1.09

200#

50 x 250

0.14mm x 0.11mm

53

1.04

220#

55.5 x 280

0.14mm x 0.10mm

50

0.92

240#

65 x 330

0.11mm x 0.08mm

36

0.71

280#(1)

70 x 350

0.11mm x 0.08mm

35

0.72

280#(2)
70 x 385
0.11mm x 0.07mm
32
0.75

300#

78 x 700

0.11mm x 0.08mm

30

1.39

315#(1)

80 x 400

0.10mm x 0.065mm

40

0.62

315#(2)

80 x 600

0.10mm x 0.06mm

-

-

315#(3)

80 x 800

0.15mm x 0.04mm

-

-

Roll width: 1-1.6m

Send Your Inquiry